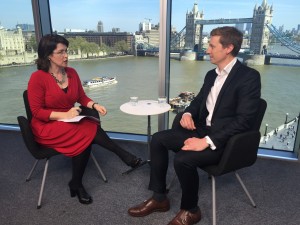 This week I am again working for the Business Debate conducting interviews with key industry leaders. We are back shooting at the London Stock Exchange Studios – which have been completely revamped, and are looking amazing! I have also been filming in the studio at  TrickboxTV, next to Tower Bridge. Check out some of the finished films on the Wall Street Journal website – click here to view one on cyber security, for example. Others are also on The Business Debate's YouTube channel.
I have also been out shooting for ITN Industry News on one of Boris Johnson's legacies – the Cycling Superhighways through central London.
I am preparing to deliver some media training with Topline Communications in Paris, no less – they're always productive sessions and everyone learns a lot.
Check out my latest work for CNBC  – on Human-Centric Design Thinking and how the way that designers work should shape the way all businesses operate. Plus see how to Save Money on Takeaways in my latest article for moneymagpie.com – if you've never tried recipe boxes, then this is my guide.