The first of my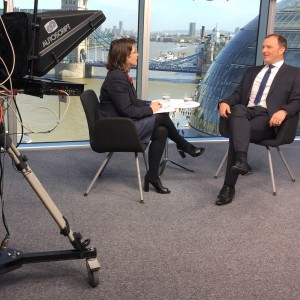 Business Debate interviews with key  industry leaders are now live on the Wall Street Journal website – click here to view one on cyber security for example. They're all part of the London Stock Exchange Studio Debates – currently being filmed at  TrickboxTV studios, near Tower Bridge in the City of London (see pic). Others are also on The Business Debate's YouTube channel so check them out.
I am preparing to deliver some media training with Media Training Asssociates on the London Business School's Senior Executive programme next week – always fun and everyone learns a lot.
I have also finished writing another piece on technology for CNBC  – not published yet – but here's one I did earlier in the series – on Digital Acupuncture.
If you haven't watched it, see the documentary I've presented for  The Business Channel on Chinese investment in the UK, and also the SME for Growth website – the UK's No. 1 resource site for small and medium sized enterprises.
Plus moneymagpie.com has had a makeover – see my latest column.