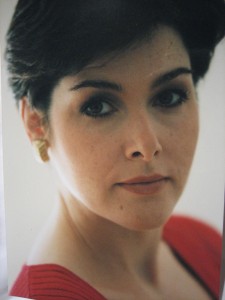 Sarah Lockett
Firstly, check out the old publicity photo I've dug out – would you recognise me in a police line-up?! I must get a few more facials done, and a haircut…
So, what I've really been doing this week is preparing to go to Riyadh, Saudi Arabia, for a work assignment. I've been trawling the internet for advice on what to wear, which seems to be pretty strict. Any advice gratefully accepted.
I've been filming in north London and Soho for the Business Channel. The latest programme I've done with them is "Britain and India: Prospects for Growth". And, if you haven't seen it yet, there's also a look at The World's High Growth Markets.
One of my recent columns with moneymagpie.com sees me road-testing Luminara flameless candles ready for Christmas. They really are "almost indistinguishable from the real thing" as the blurb promises.
Many of my films for ITN Healthcare News, ITN Education News and ITN Transport News are still online. Click here and here if you want to see more. View my keynote interview with Sir Howard Davies for ITN Transport News, on the chances of a 3rd runway at Heathrow Airport.