I recently did a Zoom call with 100 participants. I would say 97% of them had terrible lighting, framing and positioning of their webcam/laptops! Whilst this may not matter to you (you may just be chatting with your friends/family) it'll lead to a more engaging, enjoyable experience for the other person (your listener/viewer) if you get it right (this is my workstation set-up, below).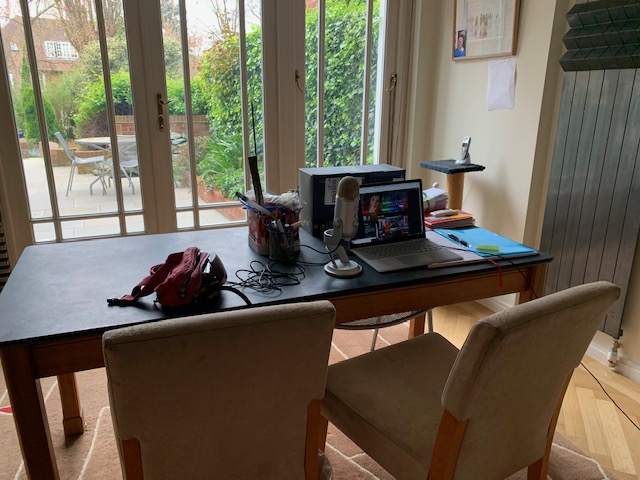 I also recently did a Facebook Messenger video chat with a friend. For about 60% of the time I was thinking: Why don't you turn the phone round and USE the light from that great big, drop-dead window behind you to illuminate yourself?! The lighting she had was casting unflattering shadows over her face/double chin and making her look older/fatter/more unhealthy/more blurry than necessary (this is my old, unflattering workstation position).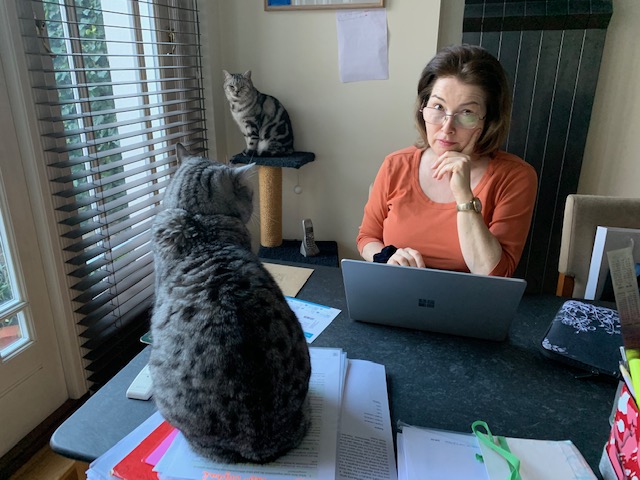 If you're conducting business from home, you want to look as professional and engaging as you can, or you should. This means (a) getting the position of your desk/laptop/computer/iPad/phone right. And (b) working WITH the available light.
Now, not everyone has a choice of rooms where they can put their laptop. Other people have a desktop set-up, which is fixed. But, as you can see from my pictures, I recently moved my WFH desk to face the light (top pic). Maybe you can reposition your desk? Or buy a light (many of them clip onto the top of your screen). If you're using a phone, you can be anywhere (where the WiFi is good) so test out a few locations in your home. You might have to bribe any kids to keep quiet for a bit (earbuds/headphones for their phones – which I am guessing most people have?).
So this is Tip No.1. For many other tips and techniques for Working from Home (WFH) Video Call skills, as well as general Communications/Presentation skills, think about booking a 90-minute remote/online training session with me. It's in my DNA to scrutinise how people come across, but you'd be surprised how many people never think about it! And it matters 🙂
Get in touch via LinkedIn, Twitter (@SarahLockett) or just email info@sarahlockett.co.uk